OVER THE HILLS AND FAR AWAY…
INLEIDING
Mijn naam is Frans van Schaik en ik ben van 1947. Deze website gaat over verschillende van mijn liefhebberijen, over een lange reis in 1977-1978 en over tochten in Schotland. De sterrenhemel heeft me van kinds af aan geboeid. De atmosfeer van die oneindigheid, als tegenstelling tot de drukke mensenmaatschappij, trok me geweldig aan. Dat die ook grote eenzaamheid uitstraalt heeft me in de eerste 6 decennia van mijn leven niet op die manier geraakt. Op een gegeven moment kreeg ik ook de bevlieging om zelf spiegels te slijpen en Newtontelescopen te bouwen. Waarom? Het idee dat je met je handen en een eenvoudig testapparaatje optiek kon vervaardigen met een oppervlaktenauwkeurigheid van 1 tienduizendste millimeter sprak me erg aan. Ik zag daar een grote uitdaging in! De lange reis was een droom van een vriend, Jan van Kruijsbergen, en mij. Deze droom kwam naar boven borrelen tijdens een glas wijn in oktober 1973. Ik moet zeggen dat deze droom, en de kans om deze werkelijkheid te maken, mij een geweldige levensvreugde heeft gegeven in een tijd dat ik moeizaam en ongelukkig naar het einde van mijn studie aan het worstelen was.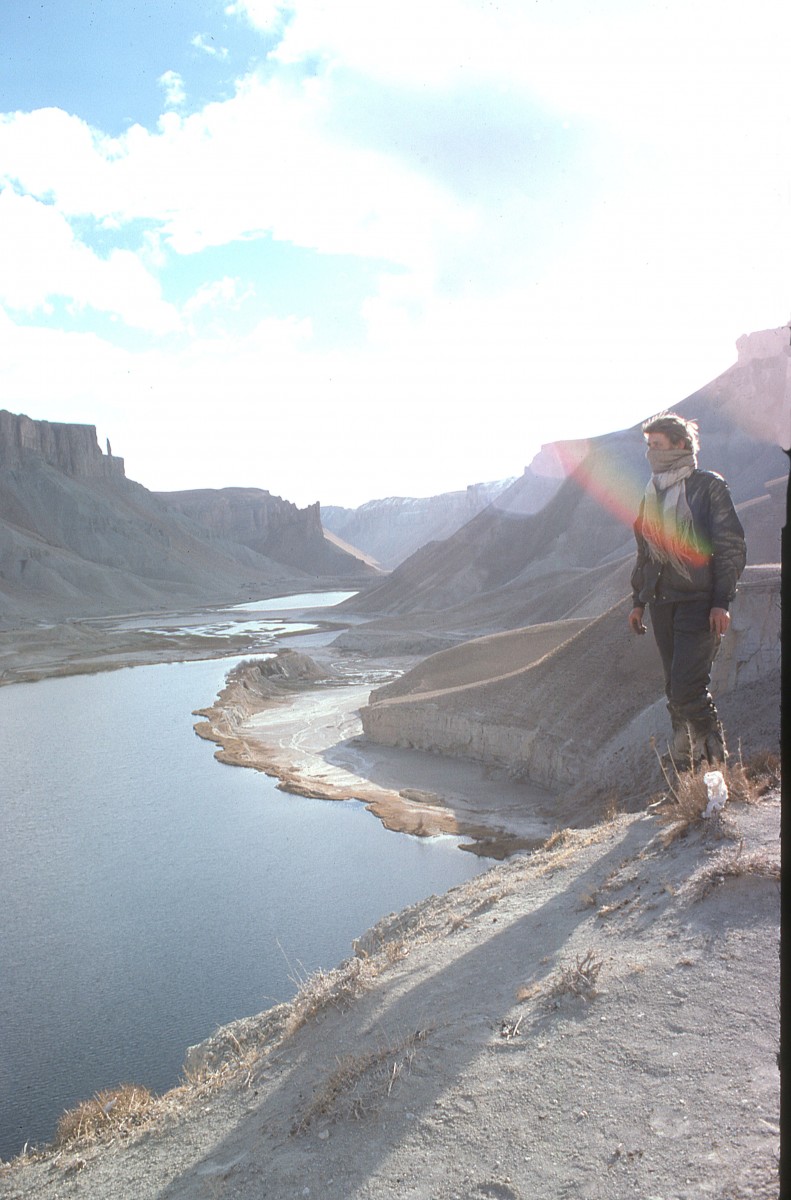 Band e Amir Afghanistan november 1977
INTRODUCTION
My name is Frans van Schaik and I am from 1947. In this site you will find an account of the making of a number of mirrors (in English) and telescopes (in Dutch). Since I am no brilliant technician, I had to find many ideas in Telescope Magazines, books and the internet. I started telescope making in 1980, after reading an article by John Dobson in the Sky and Telescope magazine. It was named "Have telescopes, will travel " and it really touched a tender spot. In 1979 I had been struggling on a 20 cm f6 mirror (my first one) and had it finished by a firm in Delft, Holland. It turned out to be a disaster and I made a vow that I would learn to make several mirrors myself and not giving up so easily anymore. It is possible to make mirrors that are good enough to give satisfying views of deep sky objects and the moon and planets. That is, if you have patience. With a lot of work it is possible to make them good but that depends on several factors.
INDELING:
Geschiedenis van mijn telescopen
Fabricage van mijn telescoopspiegels (Engels)
Motorreis naar Australie (1977-1978)
Reis in ZO-Azie (1978)
Bergtochten in Schotland
Schilderijen
NB
Deze website is tot stand gekomen dank zij de uitgebreide hulp van Bartjan van der Meer en Corine Voogt in Varik.
Mijn dank is groot!
Ik ben bereikbaar onder het mailadres fmvanschaik@ziggo.nl